Why choose Coastal Lights to assist with your Over-Dimensional Hauler's needs?
Coastal Lights exceeds our Client expectations...
We tailor our Services to meet each of our individual Customer's personal needs. We are here to make your jobs easier, on and off the road!
The Haulers and Companies that we work with turn into long-term Friends. Feel free to call us to talk about any thoughts, questions, or concerns you may have.
Even if the call is just to help you stay awake during the long deadheads!
We offer very Competitive Rates and most of the extras we do are at no charge to you. We won't nickel and dime our Customers! Your loyalty means more to us.
Contact any of our Clients to see what they think of us. We love what we do and those we work with. We are in this Business for the long-haul!
Let Coastal Lights stress about the details for you...
We work with our Customers in all phases of the trip, from first contact to delivery.
Your bottom line relies on the success of the trip. Don't skimp on the pre-planning!
We will assist in bid requests, route planning, police/utility coordination, listing nightly safe havens, and permits for our Regular Customers.
During the trip we help the Drivers with their needs and obligations.
From loading/unloading, professional Pilot Car Services, route guidance, traffic control if needed, load security, to surveillance... We are there!
Coastal Lights goes the extra mile for you...
Route planning with safe havens for fuel stops and overnights.
Our own Escorts/Vehicles and a very select network of Pilot Cars nationally. (Route Survey, High Pole, Lead/Chase, and Steer Escorts)
For those Customers using UShip or other auction sites, we assist with the bidding process.
State and Local/County Permits for our Regular Clients. (We do not offer this service as a stand alone.)
We work with Bridge Escorts, Utility Trucks, and State/Local Police Escort in scheduling the move.
We utilize Laptop GPS Navigation which can also be emailed to the driver.
In the event that it is needed, we are certified for Traffic Control.
Coastal Lights knows that your time is valuable...
Our Escorts are always on-time, ready to go a half hour before the agreed upon departure time.
This gives the Driver and Escorts time to have a meeting to discuss the load and routes before leaving.
We utilize Laptop Navigation with the full routing pre-loaded to avoid unnecessary delays from wrong or missed turns.
Vehicles are Equipped/Insured and Escorts have been certified to go where ever your load takes them.
You will not receive any DOT Inspection fines or detention time on our behalf!
Coastal Lights goes where you go...
We are Certified, Permitted, Equipped, and Insured to go anywhere in the continental United States.
Do you need us to pick you up or deliver into Canada? We can do that too! Passports and "D" Signs are always in our Vehicles.
Most of our Escorts also carry TWIC Cards if your origin or destination is one of the US Ports.
 Call us today at 1-844-OVERSIZE !
What is the purpose of a Pilot Car?
Most likely you have seen pilot cars…Pickup trucks, SUVs or cars driving in front of or behind a tractor-trailer hauling a wide, over-length, or overweight load.
These are called pilot cars or escort vehicles, and the people who drive them are trained professionals who specialize in this type of driving. You may have thought that the pilot car is part of the trucking company, but the pilot car driver is generally someone who is interdependently contracted to escort the load through a certain state or states.
A pilot car driver works in conjunction with the driver of an oversize load to make sure the truck reaches its destination safely. The pilot driver travels in front of or in back of the truck in a separate vehicle, warning the public if there are traffic changes or obstacles due to the truckload. They also warn the truck if there is anything up ahead that can interfere with its safe passage.
An escort car driver ensures that everything from switching lanes to crossing bridges is safe for the heavy haul driver, his load and everyone else on the road.
An escort car also helps to ensure that the driver of an oversize load doesn't accidentally violate traffic laws or cause an accident, while moving the over dimensional load.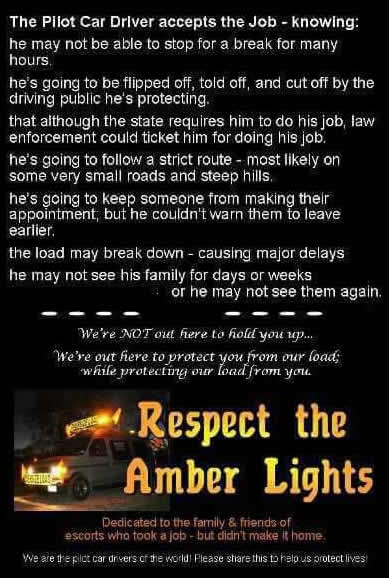 As an oversize boat hauler I have dealt with numerous pilot car services all across the country and my only call now is always to Sean with Coastal Lights. He is, by far, the best I have ever encountered for all aspects of oversize transport. Whether he is personally behind the wheel guiding the way or just sending me the most efficient route to use at no charge, I am continually impressed with his knowledge and dedication to providing top notch service every time.
Happy New Year Mr… Hopefully we can do more business together this year. Miss working with you. You've always done an awesome job. If it was up to me, I'd use you permanently.
Sean with Coastal Lights constantly impresses me with his route and permitting knowledge, willingness to lend a hand and attention to detail. He keeps me and my cargo safe while on the road, manages any additional escorts that may be required and is always on time.